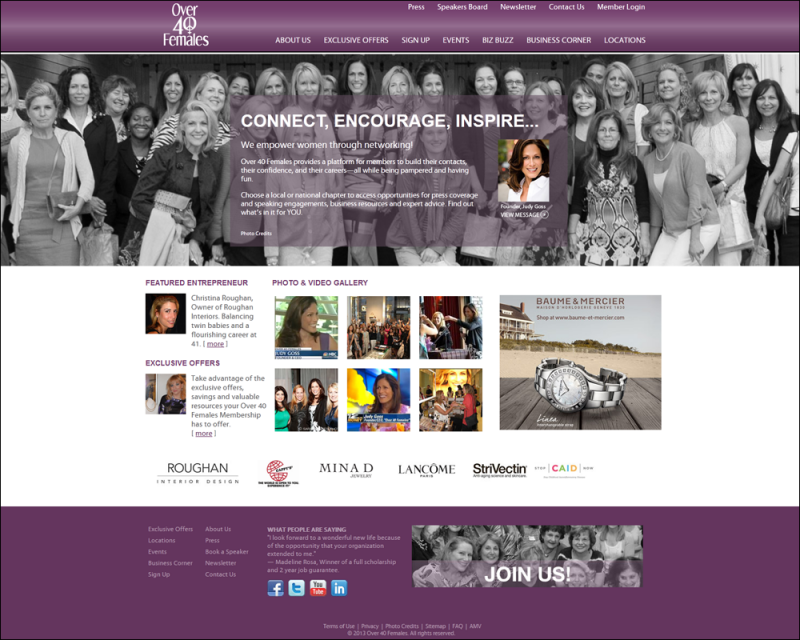 Over 40 Females is an organization for women over the age of 40 to be heard, to connect with each other and to boost their confidence through networking events, valuable resources and more all while being pampered and having fun.
One of our partners, AMV Marketing, approached us to assist with developing the Membership portion of Over 40 Females.  The membership website needed to flawlessly work with the HTML portfolio site.  The goal was to bring membership services online and to automate them as much as possible.  The site needed to manage users, multiple membership levels and subscription models. A lot of content required being imported and updated from their existing blog sites. 
Beyond this, the site required online registration for events along with a calendar displaying events.  We installed our Joingo Standard product to accommodate these features. 
Another puzzle piece for this client was to create customizable user profiles that allowed social interactions based on different levels of permission.  For example, a user could choose to allow all chapter members to view their profile, or lock it down to only approved connections.  This required custom levels of security, a facebook-style wall, as well as the ability to 'like' specific posts.
Lastly, they required a responsive website that would view on a monitor, a tablet and a phone.