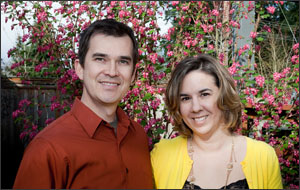 JLB Web Consulting is a Seattle area boutique development house owned by a husband and wife team. We take great pride in our service and personally take point on every project. This affords our clients a more personal experience and allows them to always know who they are working with.
Our number one priority is to deliver a quality product that you can be proud of and feel you have control over.  We always offer training with our solutions and include a reference manual for our Drupal or Wordpress installations. 
We are passionate about what we do and love a good challenge.  We look forward to hearing from you!
Bios
Liem Bahneman
Liem was an early adopter of the Internet, starting his first web publishing company in 1995. His early career was spent as a Sr. Unix Administrator, where he not only architected cutting edge web environments, but also developed advanced websites. It soon became clear that development was his true calling, so after 15 years as an Admin, he officially moved to software engineering as a career, where he was immediately recognized as a Sr. Software Engineer.
Liem's strengths lie in leveraging his web development skills with his Unix administration background for a complete end-to-end web application solution. After spending several years as a Director of Technology, he left corporate America to embark on new challenges as an entrepreneur specializing in Drupal applications.
Jenn Bahneman
Jenn began her development career by teaching herself HTML and handcrafting personal websites. With a heightened interest in web publishing, Jenn decided to further her education by earning an Electronic Publishing Certificate. As a direct result, she began her career as a Website Developer. After 15 years of hand coding HTML and CSS she returned to further her education, earning a Web Development and Database degree in open source technologies.
Throughout her career, it became evident that project management, client handling, and user experience (UX) were her strengths. Always having an entrepreneurial spirit, Jenn launched JLB Web Consulting and recruited her husband Liem to fulfill the lead developer position, allowing her to focus on her strengths. Her background in web development allows her a broad understanding of the development process and managing expectations between developers and clients.