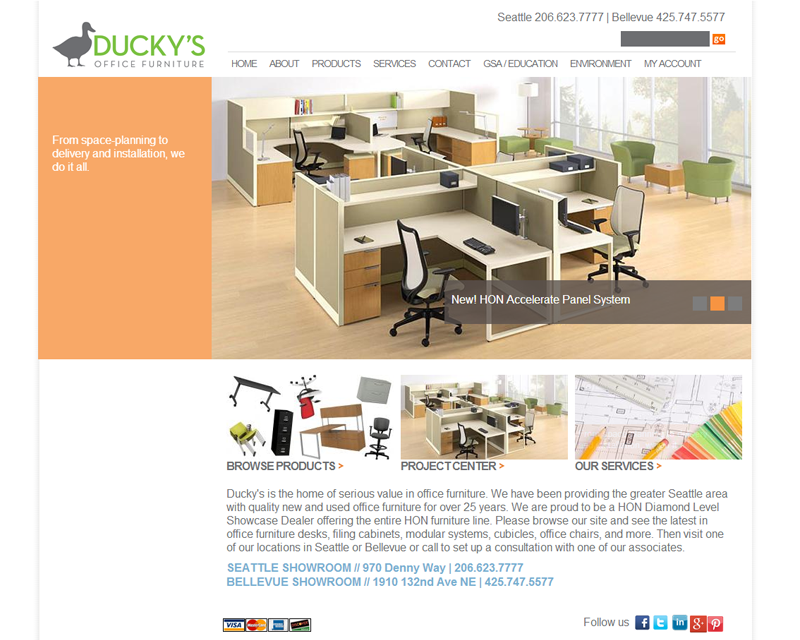 Ducky's Office Furniture was using an all-in-one turnkey eCommerce web service that wasn't meeting their needs adequately. To provide them with the flexibility of product management and to satisfy their potentially complex shipping requirements we recommend a Drupal 7 and Ubercart 3 solution. Ducky's had a web site design prepared by their own graphic designer so a custom theme implementation was in order as well. 
Ducky's uses a variety of shopping options for their customers: freight, drop-ship from the manufacturer and delivery from their website from their inventory. Ubercart and Drupal's complex rule system provided an ideal mechanism for managing these options at checkout. Another requirement was the ability for their staff to manage their website inventory and product offerings from a master spreadsheet. This spreadsheet handles all aspects of the product, including description, pricing, categorization, and shipping options. The entire product presentation and organization, including hierarchical product layout is handled by the spreadsheet. 
A very important consideration for Ducky's migration to Drupal was to provide redirects of paths that exists on their old site to relevant paths on their new site. This would preserve all of their SEO (Search Engine Optimizations) they had earned up to the point of cutover. This was accomplished with a combination of URL aliases in Drupal and Apache rewrites.